Region: Gulf Coast – Florida
Date Reported: Nov 16, 2015
Reported By: Mike Ahart, News Editor
Source: City of Cape Coral, FL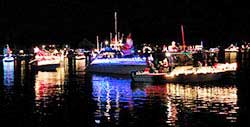 Join in for this year's Holiday Boat A Long on Saturday, December 19th, 2015 from 4:00pm – 10:00pm in Cape Coral.
Located at Four Freedoms Park on Cape Coral Pkwy, the festival has food, Christmas music, and a visit from Santa Claus along with the parade.
You can also watch as the boats line up in Bimini Basin for the parade which first passes by the park's beach before heading down various canals in South Cape Coral.
It must be amazing to be able to watch the boats go by if you live on one of those canals, but if not, you can have a front seat at the park. 
They have a few bleachers set up in front of the beach, but bring your own chairs if you can to make sure you have a place to sit, there's plenty of room.
The parade finally starts at 7PM with fireworks and it is a sight to behold!
Visit the Holiday Boat A Long parade webpage for more information.
View location on the Waterway Guide Explorer
It's put on by Cape Coral Parks and Rec.  To register to be in the boat parade, contact Sea Tow at (239)549-0558, to perform at the festival call (239)573-3121, and for more information call (239)573-3123.
Get into the Christmas spirit Florida-style and go to this Cape Coral boat parade, make sure you take the time to fit it in with your holiday festivities ………. it's a lot of fun!
Source:[Waterwayguide]